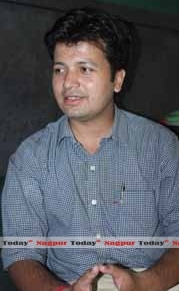 Nagpur News.
A vibrant youth Activist and National Secretary of Akhil Bhartiya Vidya Parishad (ABVP) and the National Convener of Think India, Ashish Chauhan was in Orange City . Hailing from Rohru region of Shimla District in Himachal Pradesh, he has been instrumental in organizing 'Think India' conferences in IIM Ahmadabad, IISc Bangalore and in the cities of Pune and Bhopal. After being declared as the National secretary of ABVP, he continues to work in the dimensions of all India Education Institutes' of ABVP on national level, he is  now based in Mumbai.
In an informal chat with Nagpur Today, Ashish Chauhan shared his organisations work and vision. The excerpts
What reforms for students are you expecting by HRD Minister. What are you demanding from Smriti Irani?
Recently, our ABVP delegation met HRD Minister Smriti Irani. We updated her on many issues like of quality of education in higher education. We demanded some key points and submitted a proposal to her.  One such proposal 'Shikshan Vikas Nidhi' in which fund should be made in order to maintain scholarship and education.
How do you react to government's stand on on foreign and private universities?
ABVP is not in support of the Foreign University Bill. ABVP has serious concern over this issue. This bill cannot be implemented without getting consensus over it. Consensus of the academic fraternity (academicians) and discussion is needed on this issue, because private universities have become shops for education. Unless, these universities give students their due freedom, reduce the fees structure which is very high, quality of teaching(faculty), amenities and permanent teachers are some of the issues which needs to be addressed.
Will the foreign education affect the Indian values? Is it dangerous to our value system?
I think it is hypothetical question. This bill was proposed by the UPA Government, and unless you have consensus over it you can't go ahead. There are many questions attached to it which are unresolved. For example the syllabus of these universities, the political and history subject and the matter in it is a serious issue and is still unresolved. Your views on caste based education system?
I think it is needed. After much deliberation and thought this was introduced in our constitution. ABVP supports it.
College Managements are pocketing freeships and scholarships. What is ABVP doing about it?
The college Management are answerable to law. We from time to time launched agitation in this regard.
How corruption in education can be dealt with?
We hold agitations against this practice, whether it is Congress government or BJP in power, where ever there is corrupton we are against it.
Why should youth join ABVP?
To learn your rights and speak about the issues. It is a platform which provides leadership in all areas of life.
Your views on the Student Council of Nagpur university ?
Nomination system of Student Council election prevailing in Nagpur University is pathetic. It yields no leadership. Fully fledged open elections would change the scenario and pure leadership would come into existence.
Your message to the youth of Nagpur?
Nagpur has a very unique location and history. Since it is centrally located it is in very pivotal position. The students and youth of Nagpur should demand for facilities and amenities. If students demand in one voice, results will come like better university, better colleges and good education will come. Institution of higher quality should come here. Keeping all these concerns take this agenda forward.